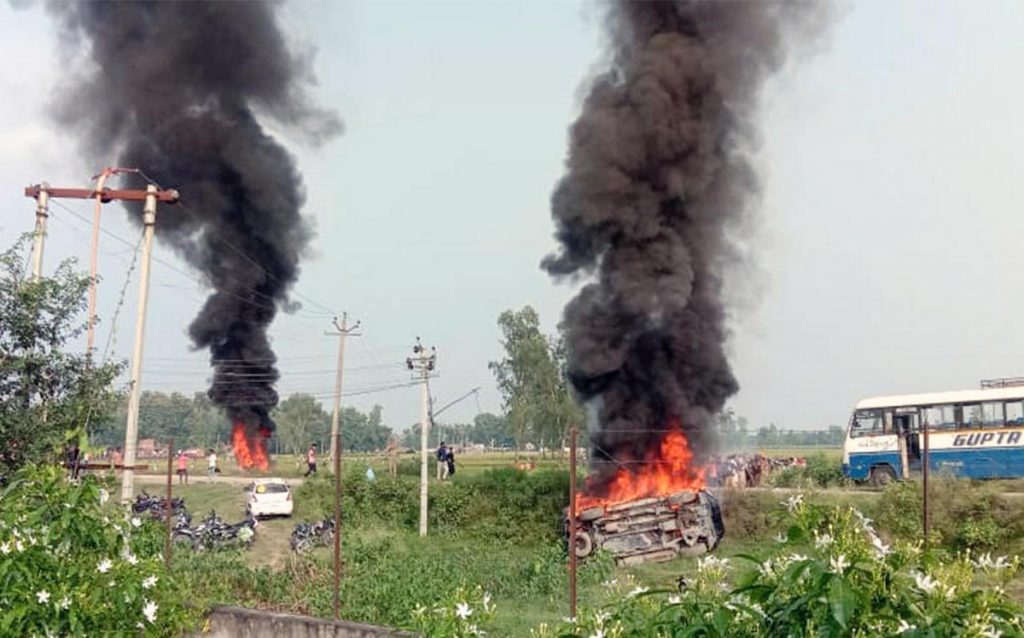 There is a clear parallel between Lakhimpur Kheri, Darrang and the temporalisation of violence under another mission-driven government, the Left Front in Bengal, write Subhasish Ray and Suman Nath
Authors:
Subhasish Ray, Associate Professor,Jindal School of Government and Public Policy​, O. P. Jindal Global University, Sonipat, Haryana, India.
Suman Nath, Assistant Professor in Anthropology, Dr. A.P.J. Abdul Kalam Govt. College, West Bengal (affiliated to the West Bengal State University).
Summary:
After writing on political violence in West Bengal in a previous article, the authors here explore political violence in BJP-ruled states.
Two recent incidents form the backdrop of their intervention. In the first, in the midst of an eviction drive by the newly elected Assam government in Darrang district, a photographer, Bijay Shankar Baniya – he was embedded in the police force to "document" the drive – was himself caught on camera desecrating the lifeless body of an "illegal" resident who had been shot at point-blank range as he ran towards a posse of policemen waving a stick.
Fast forward a few days, a speeding convoy of SUVs, again caught on camera, mowed down four farmers and a journalist in Lakhimpur Kheri district in Uttar Pradesh. The farmers were on their way to a protest at a helipad, where the local "strongman," also the Union Minister of State for Home Affairs, Ajay Mishra, was scheduled to receive Uttar Pradesh Deputy Chief Minister, Keshav Prasad Maurya. In the subsequent melee, four other individuals were killed, including two BJP party workers.
An FIR, filed on behalf of the protesting farmers, claimed that the entire event was a conspiracy planned by the minister and his son, Ashish Mishra, who was allegedly in the first car in the convoy – the car belonged to the minister – firing shots at the protesters as the marauding convoy went by. The FIR also claimed that the immediate context of the protest – part of the ongoing farmers' struggle across Punjab, Haryana, and western Uttar Pradesh against the Narendra Modi government's controversial farm laws – was a provocative comment made by the minister at a local event on September 25 where he threatened farmers in the district with dire consequences if they continued mobilising against the farm laws.
Extraordinarily, though Ashish Mishra was named as an accused in an FIR, it took the Uttar Pradesh police over five days to arrest him – during this time he was issuing proclamations of his innocence to TV channels – and that too after a not-so-gentle prod from the Chief Justice of India.
It is also worth noting that Lakhimpur Kheri was not the first instance in recent times where government functionaries were found openly declaring their "impatience" with the farmers' movement. On August 28, the Karnal sub-divisional magistrate, Ayush Sinha, was seen on video giving orders to the police to break the head of protesters – "Sad phod do."
Published in: The Print
To read the full article, please click here