JGU clocks 45% annual growth in research paper publications

O.P. Jindal Global University (JGU) is a research driven institution, focused on producing high-quality and high-impact research. The university provides a plural environment, enabling policies, supportive governance as well as state-of-the art infrastructure to facilitate knowledge creation through socially relevant research by its faculty members and students.
Since its founding in January 2009, JGU has established over 60 research centres at its 12 schools, and 3 research and capacity building institutes. The university has also actively engaged in a range of collaborative and interdisciplinary projects.
The university's faculty members have over 4,200 publications to their credit, garnering citations from scholars, policy-makers and jurists. The excellence demonstrated by JGU in research has led to it being recognized as an Institute of Eminence by the Government of India in 2020.
Research publications by JGU's faculty have grown at an annual average growth of 45% between 2010 and 2021. The research work is dominated by peer reviewed journal research papers (85% of all publications) and 80% of papers have been featured in Scopus Indexed Journals.
Further, JGU researchers have also published 24 Scopus Indexed Books, and 135 Scopus Indexed Book Chapters during 2009-21.
Additionally, JGU faculty has published 1,989 articles in popular media in India and abroad between 2009-21. JGU faculty and researchers are regularly invited to voice their opinion in print visual media.
Annual per capita faculty output has also risen from 0.22 paper per faculty to 0.38 paper per faculty in the last two years (2019-21).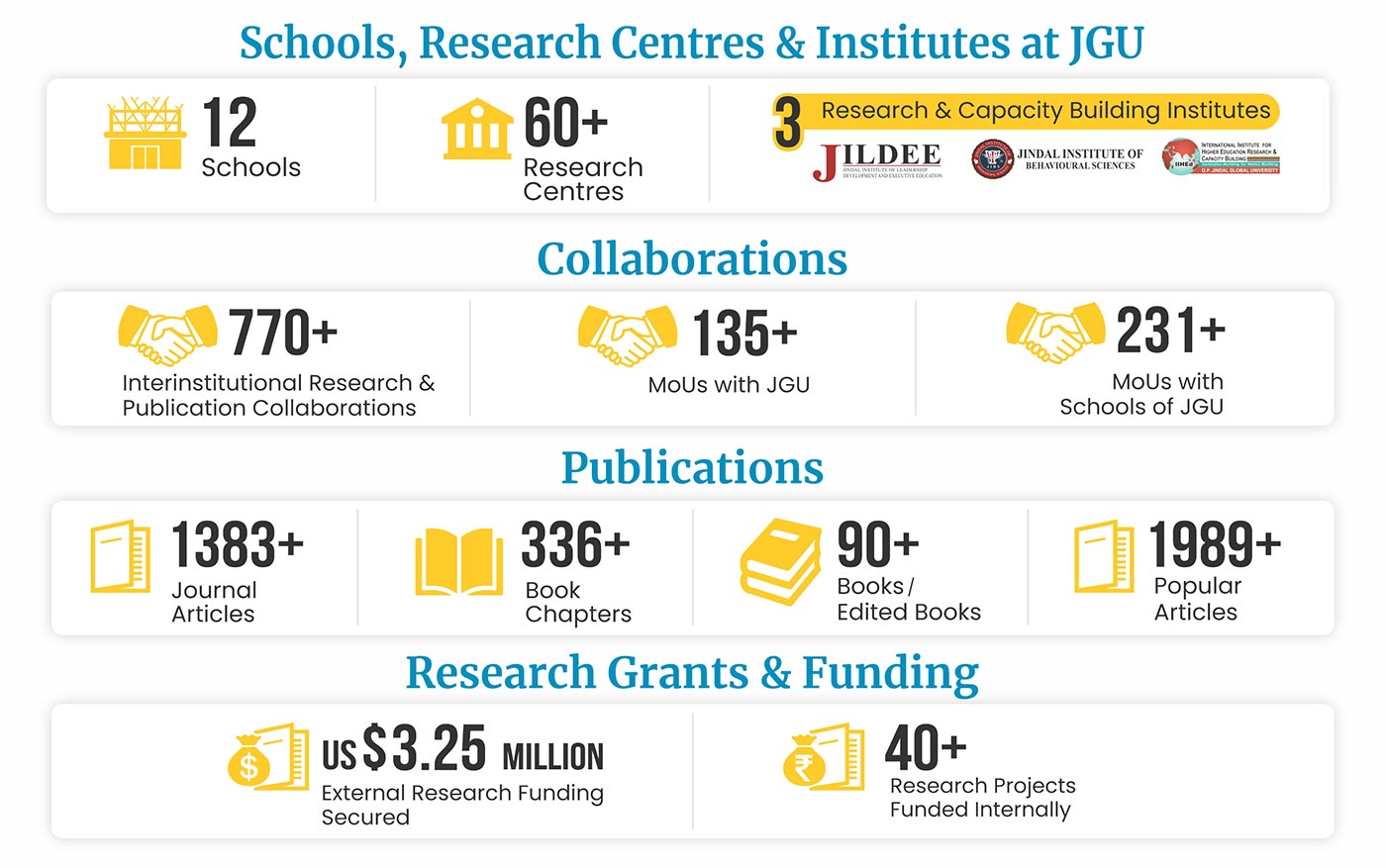 Since 2009, JGU has received research grants upwards of US$3.25 million for research projects from multi-lateral donor agencies like European Union, World Bank, Asian Development Bank, British Council, ILO and WHO etc.
JGU has secured grants from various departments/ ministries of the Government of India including Department of Science and Technology, University Grants Commission, and the Ministry of Commerce, etc.
JGU has also been the recipient of competitive research grants from organisations like Facebook, Wellcome Trust, Qualcomm and Arrow, etc.
It is expected that JGU would be able to secure research grants upwards of US$5 million in the coming 5 years by 2025-26.
JGU also funds research projects through internal grants. In the last 10 years more than 40 interdisciplinary research projects have been funded through the mechanism. These research grants are awarded with a compulsory mandate towards definite societal contribution.
About one third (33%) of the research based co-authorship has been with North American countries (USA and Canada). Further, 21% and 17% have been with Europe and the UK respectively. Nearly 20% of the Asian collaborators were from outside India.
Between 2009 and 2021, JGU and JGU schools have signed 362 MoUs for academic collaborations. About 36% of all MoUs have been with Asian universities, followed by 22% with North American universities and 17% with European Universities.
Successful research grants based collaborations have been mostly with Indian institutions (37%) followed by the UK institutions (26%).
For more details about the research activities being conducted at JGU, please download our Research Report 2021.