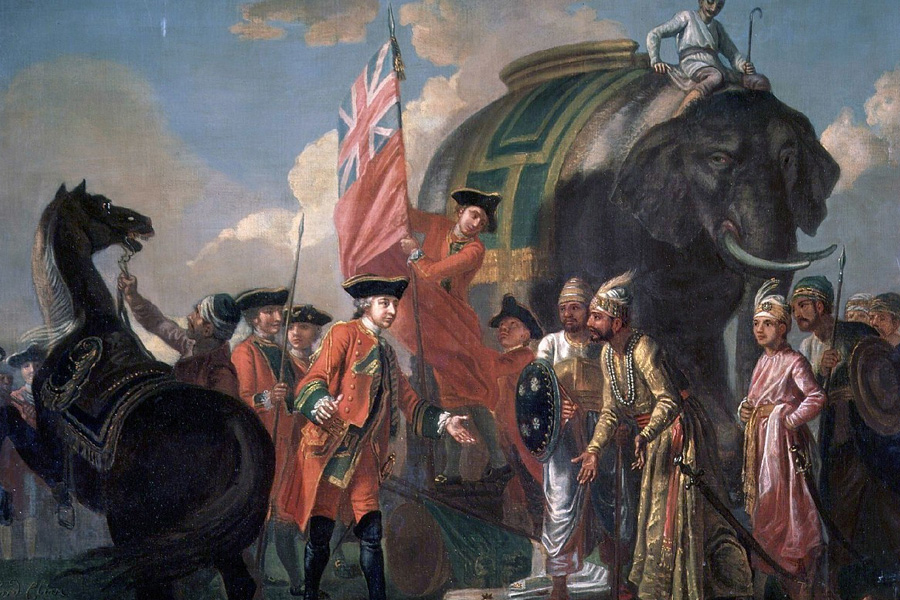 For nationalist historians like Jadunath Sarkar, the English victory at Plassey marked the onset of Bengal's 'Renaissance'—a view also shared by Rabindranath Tagore's industrialist ancestor—Dwarkanath Tagore.
Author
Arup K. Chatterjee, Professor of English, Jindal Global Law School, O.P. Jindal Global University, Sonipat, Haryana, India.
Summary
On the afternoon of July 2, 1757, at the hour they were going to kill Siraj in a sodden dungeon of the Jaffarganj Palace—along the east bank of the ebbing Hooghly, flanked by groves of palms, banyans, and mango trees—the young Nawab cast his weary eyes on his assassin before breaking into his final prayer. In the middle of the prayer, he paused a few times to remember things forgotten at his rukhsat altar.
The Revenge of Husayn Quli Khan
'My people,' murmured the wan Mansur-ul-Mulk Mirza Muhammad, 'will not rest to see me retire on a pension, hiding my face in a deserted corner. No, they will not. Then die I must. So, I may atone the death of Husayn Quli Khan … That is my end. And this is the beginning of Husayn Quli Khan's revenge.'
Husayn Quli Khan was a deputy to Nawab Shahamat Jang, the nephew and son-in-law of Alivardi Khan, the Nawab of Bengal, and Siraj's maternal grandfather. Husayn was also the infamous lover of Siraj's eldest maternal aunt—Ghaseti Begum—who could not avert the murder of her paramour by Siraj's men in 1755.
Legends from the Battle of Plassey—fought less than two years after Husayn Quli's murder and a little over a week before Siraj's—can become the touchstone of tragedies 'rivalling the Mahabharat at its most epic and macabre; it can also inspire Marquez to pen another Chronicle of a Death Foretold.' One may even add a grisly Francis Ford Coppola 'family' saga to that inventory.
Published in: The Daily Star
To read the full article, please click here.