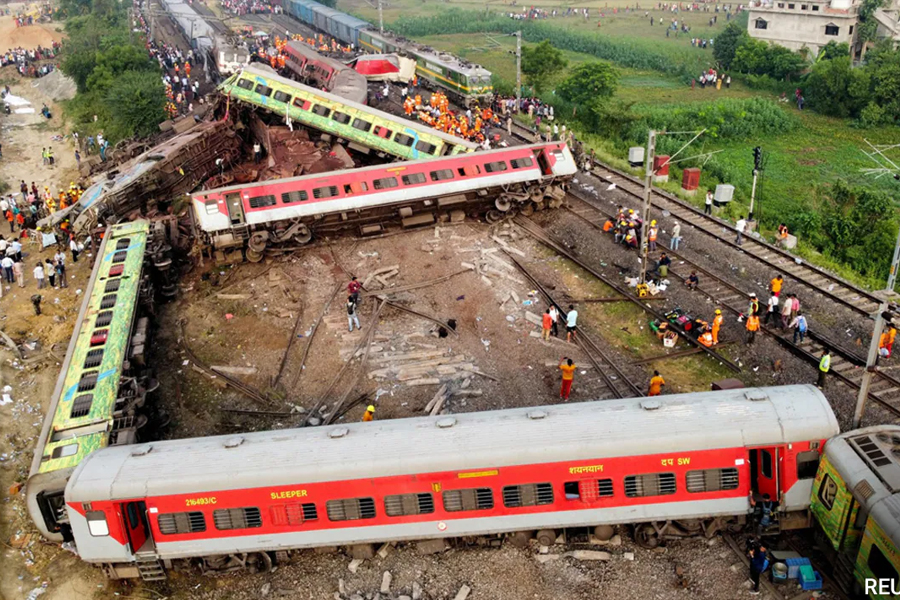 Problems of understaffing and surrendering of railway allocated funds do not get adequately highlighted in the citizen's imagination amidst celebrations of a technological nationalism aided by the government's otherwise praiseworthy initiatives on bullet trains, superfast trains and pilgrimage circuits.
Author
Arup K. Chatterjee, Professor of English, Jindal Global Law School, O.P. Jindal Global University, Sonipat, Haryana, India.
Summary
It is over two days since the crash involving three trains (the Shalimar-Chennai Coromandel Express train, the Yesvantpur-Howrah Superfast Express train, and a goods train) – at Bahanaga Bazar station, near Balasore, in Odisha – with about 2,200 passengers on board.
The death toll from Friday's train crash is approaching 300 (275 at the time this was written) with over 800 people injured, and nearly 100 in critical condition. It is the most catastrophic accident that has occurred on the Indian Railways since the 1995 accident near Delhi which killed over 350 passengers. It is also a little over a week since the inaugural run of the indigenously-built Vande Bharat Express (plying from Dehradun to Delhi) was flagged off by Prime Minister Narendra Modi.
Amidst the marathon over-50-hour-long monitoring and rescue operations headed by the Union minister of railways, with sweltering summer heat crossing 37 degrees, hundreds of lives were saved by teams of local rescuers, Indian army and navy personnel, doctors and medical professionals from Odisha, neighbouring states, and Delhi, as blood donation camps, long queues, and the identification of passengers became the leitmotifs of the aftermath of the tragedy at Balasore.
Published in: Moneycontrol
To read the full article, please click here.