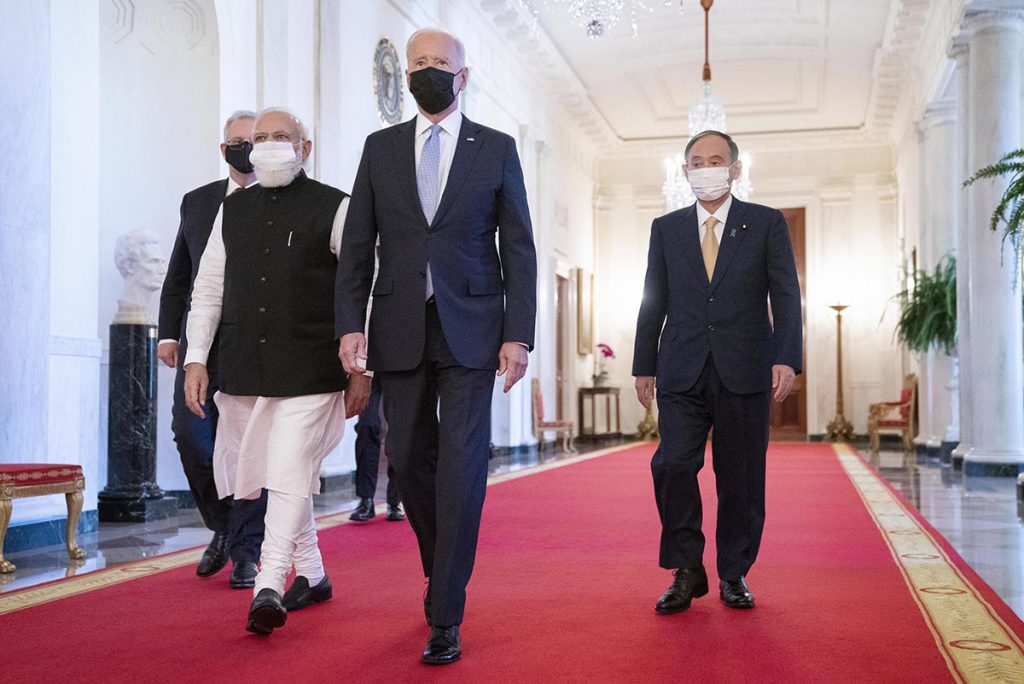 Education will be next focus area for development
Authors
TTridivesh Singh Maini, Assistant Professor-Diplomatic Practice, Jindal School of International Affairs, O.P. Jindal Global University, Sonipat, Haryana, India
Summary
The Quadrilateral Security Dialogue (Quad) Summit, held on Friday (Sept. 24) rebuffed the narrative the group is no longer relevant in the aftermath of the AUKUS deal.
This theory gets the Quad wrong. The Quad is not a "military alliance" like AUKUS, nor is it an "Asian NATO." Rather, it is an important platform for countries to work on joint strategic challenges in the region, and to provide an alternative economic narrative to China's.
This latest summit showed the group's evolution into new areas, discussing topics as varied as COVID-19 vaccines, climate change, emerging technology, greater cooperation in space, infrastructure projects, and supply chains.
Vaccines
The leaders reaffirmed their commitment to vaccination, donating a combined 1.2 billion vaccine doses globally. They also launched a Quad Vaccine Experts Group, made up of experts from the four countries, who will build stronger ties and better align plans for a pandemic response in the event of future outbreaks.
This is in line with the Quad's move beyond traditional military cooperation and extending its scope to public health, recognizing this is a pillar for resilience in the region.
Infrastructure
Quad countries are working together on infrastructure and economic projects too. Bilateral arrangements include India and Japan's Asia Africa growth corridor (AAGC), which envisions connectivity projects between Africa and Asia as a counter to BRI.
The U.S., Australia, and Japan are also working together on the Trilateral Partnership for Infrastructure Investment, which includes a Palau cable project, with a new cable that runs from Singapore via the tiny Pacific island nation and on to the west coast of the U.S.

To build upon this momentum, the Quad countries need to work closely together with a greater sense of urgency and lay out a roadmap for quadrilateral projects that include all members.
Economic
One of the important economic initiatives in the group this year has been the Supply Chain Resilience Initiative (SCRI). Formed by Japan, Australia, and India, it aims at "attaining strong, sustainable, balanced and inclusive growth in the region."
Yet, extending this kind of framework to all the Quad countries will prove difficult. The four countries currently lack an economic platform that works for all four countries.
While Japan and Australia are members of the CPTPP and RCEP, India and the U.S. are not. There are also major trade issues between India and the U.S.
The private sector has the potential to assist here. The  United States International Development Finance Corporation (USIDFC), for instance, was set up during the Trump administration to provide foreign aid through the financing of private development projects.
Published in: Taiwan News
To read the full article, please click here