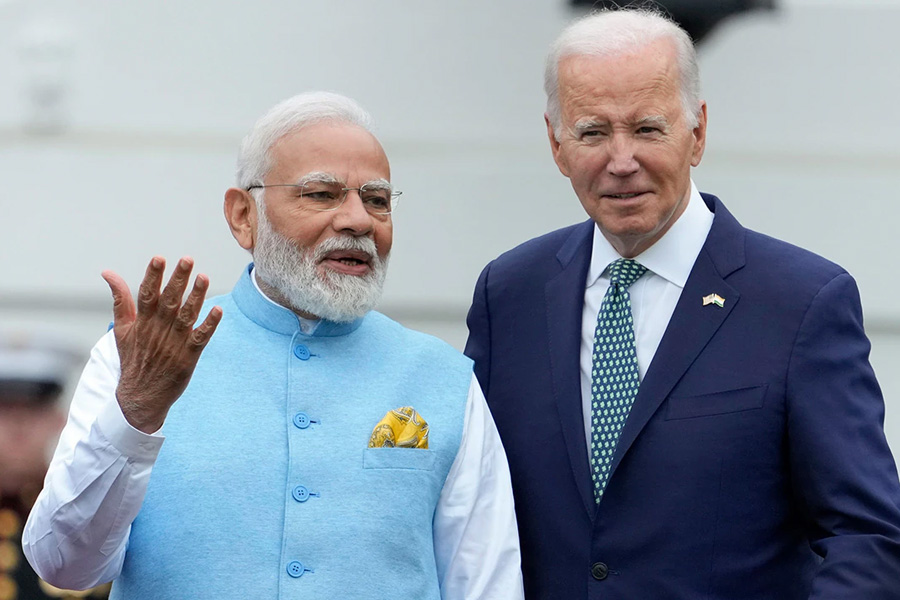 India is crucial for the US' effort to develop a strong countervailing force to China in the Indo-Pacific.
Author
Deepanshu Mohan, Associate Professor of Economics and Director, Centre for New Economics Studies (CNES), Jindal School of Liberal Arts and Humanities, O.P. Jindal Global University, Sonipat, Haryana, India.
Summary
Prime Minister Modi is scheduled to travel to the United States on 22 June for an official state visit hosted by the US President Joe Biden and First Lady Jill Biden. From the statement released by The White House, the visit seems to be lucidly aimed at deepening US-India strategic partnership in areas of defence, military, space, and energy security.
According to the White House,
"The upcoming visit will affirm the deep and close partnership between the United States and India and the warm bonds of family and friendship that link Americans and Indians together. The visit will (also hope to) strengthen our two countries' shared commitment to a free, open, prosperous, and secure Indo-Pacific and our shared resolve to elevate our strategic technology partnership, including in defence, clean energy, and space. The leaders will discuss ways to further expand our educational exchanges and people-to-people ties, as well as our work together to confront common challenges from climate change, to workforce development and health security."
This will help bolster an already strong economic and strategic partnership. From 2021 onwards, the US became India's largest trade partner and net exporter. A large volume of India's exports, particularly in services, has been anchored towards the US markets, despite significant trade-related issues between both nations. We look at a few of them here.
Published in: The Quint
To read the full article, please click here.