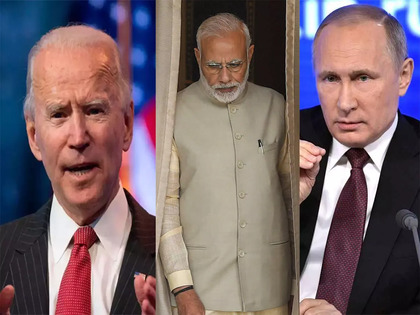 For India, following the same standard of diplomacy with Ukraine that the EU had followed while asking India and China to settle the conflict by diplomatic means during the Galwan clashes in 2020 makes sense at the moment, says the author.
Author
Sriparna Pathak, Associate Professor, Jindal School of International Affairs, O.P. Jindal Global University, Sonipat, Haryana.
Summary
With Vladimir Putin's declaration of war on Ukraine on Thursday morning, Russia and the US, both of which India shares good relations with, find themselves at loggerheads.
Russia's relation with China, which at best is of a 'fair weather friendship' variety given the host of prickly issues between them despite the shows of bonhomie, has, on the other hand, become closer in this conflict.
Moscow's and Putin's joint statement during Putin's pre-Winter Olympics visit to China on February 4, mentioned how there are no "forbidden areas of co-operation" between Russia and China.
With Ukraine invaded, the question now is: how far will Beijing go with its no-limits co-operation with the Kremlin?
Published in: The Economic Times
To read the full article, please click here.