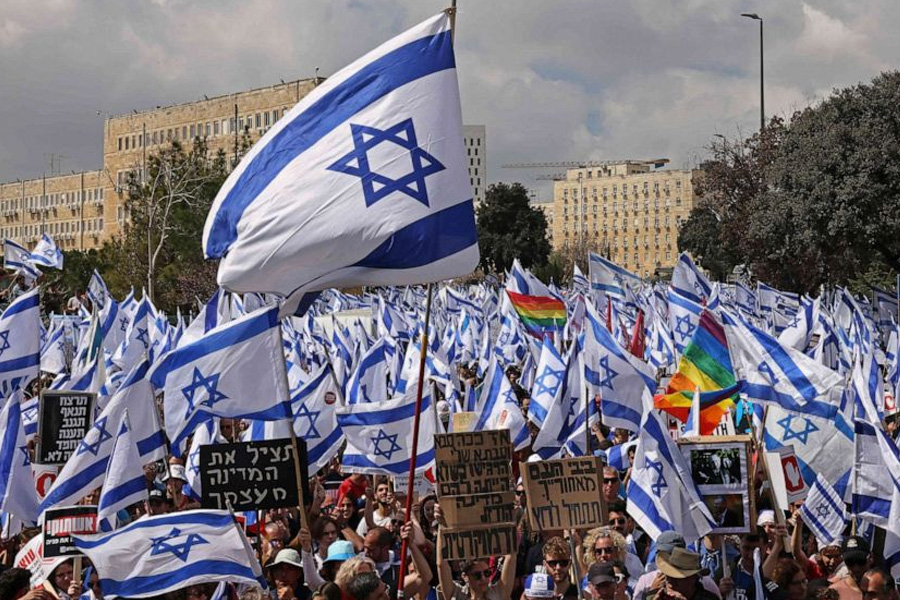 The bedrock of Israeli democracy has been an independent judiciary which has maintained the spirit of the declaration of independence
Author
Khinvraj Jangid, Associate Professor & Director of Jindal Center for Israel Studies, Jindal School of International Affairs, O.P. Jindal Global University, Sonipat, Haryana, India.
Summary
Lakhs of Israelis have been protesting the judicial reforms proposed by Prime Minister Benjamin Netanyahu's government for almost three months.
Every Saturday evening, in more than a hundred places across Israeli cities and towns, protesters assemble peacefully, some with their toddlers, to demand that the judiciary remain independent for the sake of democracy in Israel.
The last two weeks have seen 'Disruption Days' where protestors called for strikes, blocking highways and even Israel's only international airport when Netanyahu was to fly to Italy and Germany. Three per cent of the 90 lakh people in the small country are on the streets against the bill which downsizes the judiciary and will give unchecked powers to the elected government. This scale and depth of the political protests have been a spectacle in Israel, but this is not the first time such protests have broken out.
Spirit of Israeli democracy
The current fight is bigger because the fundamentals of the Israeli state are being debated. The Israeli declaration of independence describes the state as Jewish and democratic, the two terms have been the centre of many debates where scholars have argued whether they're complimentary or contradictory. It worked for the Israelis, a normative framework was established where both religious and non-religious Jews could hold space in the state.
Early ruling parties were socialist and political liberals, also dominated by white Jews. Religious and conservative Zionist parties combined with many other social ideological groups of the non-white-Jews started getting power much later.
Published in: The Print
To read the full article, please click here.