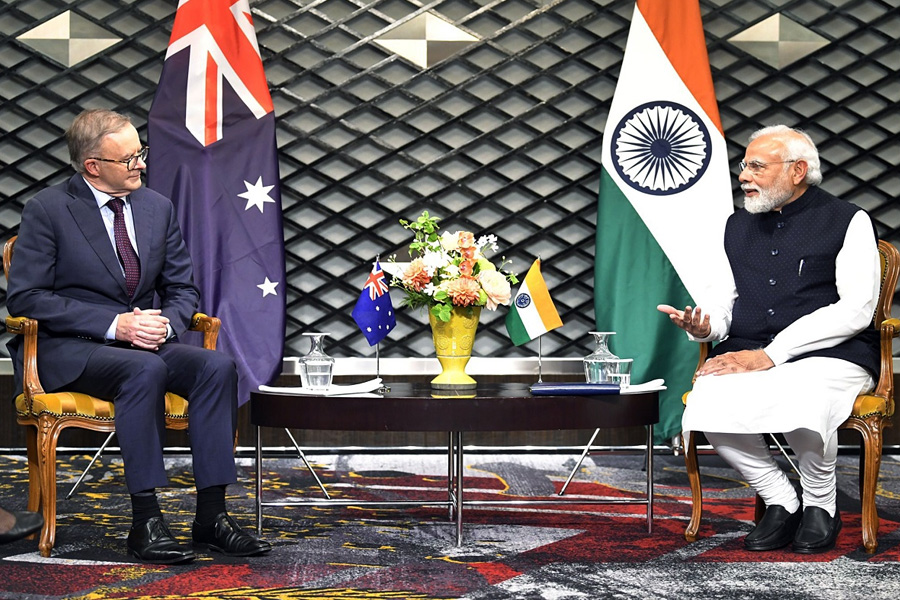 As Australia seeks to reduce dependence on Chinese students, it would want to attract more Indian students.
Author
Tridivesh Singh Maini, Assistant Professor, Jindal School of International Affairs, O.P. Jindal Global University, Sonipat, Haryana, India.
Summary
In a changing geopolitical landscape, strategic ties between India and Australia have strengthened significantly. Both countries are important stakeholders in the Indo-Pacific strategy and members of the Quad. Australian Prime Minister Anthony Albanese in a tweet ahead of his India visit (March 8-11, 2023) said: "We have a historic opportunity to strengthen our relationship with India, at a time of extraordinary growth and dynamism in our region."
One of the propelling factors for closer strategic and economic cooperation between Australia and India is strained Canberra-Beijing and New Delhi-Beijing ties. India will be participating not just in the Malabar exercises to be held in Australia later this year, but will also take part for the first time in Australia's Talisman Sabre exercise.
In the economic sphere, Australia is keen to reduce its dependence upon China, after bilateral ties between Beijing and Canberra witnessed a downward spiral in recent years. India and Australia signed a Free Trade Agreement (FTA), referred to as Economic Cooperation and Trade Agreement (ECTA) which came into effect in January 2023.
Strategic and economic ties between New Delhi and Canberra are bound to grow as was evident from the India visit of the Australian Prime Minister, Anthony Albanese, earlier this month. During Albanese's India visit, at the India-Australia summit held on Friday, March 10, 2023, Modi and Albanese discussed several important bilateral and global issues.
While commenting on India's importance in the context of the Indo-Pacific and the relevance of his India visit, the Albanese had said: "My visit reflects my government's commitment to place India at the heart of Australia's approach to the Indo-Pacific and beyond."
Albanese, whose delegation included several top Australian CEOs, also emphasized the need to give a push to bilateral economic relations between both countries.
Published in: South Asia Monitor
To read the full article, please click here.