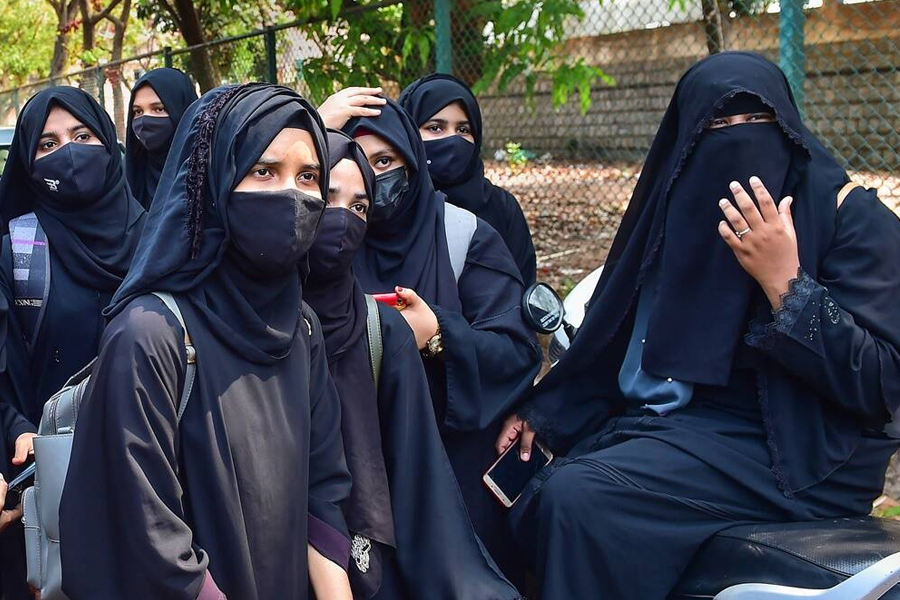 The polarising politics over clothing negates Muslim women's agency, and absolves the state of its responsibility to protect and empower its minorities, writes the author.
Author
Ambreen Agha, Associate Professor, Jindal School of International Affairs, O.P. Jindal Global University, Sonipat, Haryana, India.
Summary
The ongoing hijab controversy — with the state and its institutions as equal participants – is another manufactured event that indicates the deepening of cultural tensions between the Hindu majority and the Muslim national minority.
Stridently embracing a masculinist approach of "rescuing" Muslim women, the Karnataka High Court's judgment pronounced that the hijab is not an "essential religious practice in Islam".
In doing so, the court seemed to ignore two interrelated ideas: Firstly, the primary human impulse of seeking freedom (guaranteed in and safeguarded by the Constitution), and secondly, that this freedom can be realised from the fluidity that lies in the practice of Islam, a point implicit in its own verdict.
If the religion doesn't sanction punishment for not wearing the veil, why is the state determined to deprive a whole generation of young hijab-wearing Muslim girls from pursuing education?
If the state continues to exercise prejudice against the hijab-wearing girls, depriving them of their fundamental rights, it will be the beginning of a new chapter of "historical disadvantage" in the political history of modern India.
What is ironic is the glaring dissonance between India's global aspirations and pursuit of collaborations, internationally, and a steady slide into inequality, domestically.
In this sweep of insidious currents of hostility towards the largest minority of the country, the state and its institutions seem to be on a path to systematically disempowering the community.
This is, arguably, a fallout of the failure of liberal feminist politics and its longstanding view of the hijab as a sign of "increasing Arabisation" and an "instrument of oppression".
This biased and ill-informed view of liberal secular feminists led to the creation of a figure of an undesirable "other", which rigidified the liberal and the conservative binaries within the mosaic of Islam and its followers.
It is these mythical categories of the liberal and the conservative that has made the latter an easy target of Hindu authoritarianism in successive years of its ascendancy.
Published in: The Indian Express
To read the full article, please click here.