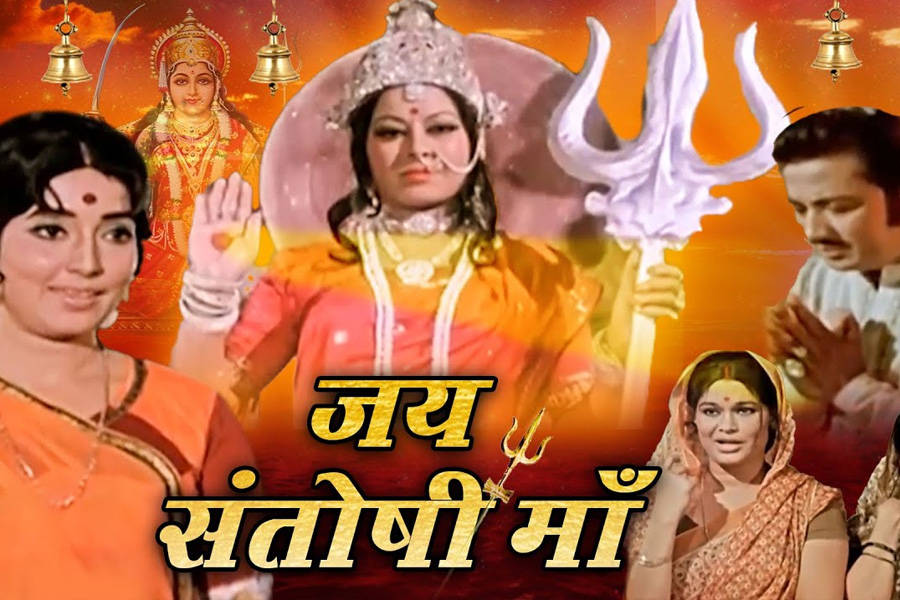 The recent controversy over a film poster depicting Kali smoking shows that iconography of the mother figure continues to be a site of contest, says the author.
Author
Uttaran Das Gupta, Associate Professor of Practice, Jindal School of Journalism and Communication, O.P. Jindal Global University, Sonipat, Haryana, India. 
Summary
In the opening scene of the blockbuster, mythological Hindi film Jai Santoshi Maa (Vijay Sharma, 1975), Ganesh gives birth to a daughter at the request of his sons. They want a sister who can tie them a rakhi. This is a deft narrative move by the film's makers, providing the Hindu goddess Santoshi Mata with a Puranic lineage, paving the way for her pan-Indian popularity.
Historian Wendy Doniger in her landmark study of Hindusim, The Hindus (2009), writes that Santoshi was first worshipped by women in some cities of Uttar Pradesh in the 1960s, becoming popular only with the success of the film. "During screenings, the theatre became a temple, and women made offerings, pujas of fruit and flower on the stage in front of the screen," she writes. "The medium was certainly the message here."
The "devotional" or "mythological" film is inalienably linked to the very roots of Indian cinema. Dadasaheb Phalke's Raja Harishchandra (1913), the first feature-length film made by an Indian, was adapted from a Mahabharata story, establishing the mythological genre, which film scholar Rachel Dwyer in her book Filming the Gods (2006), claims is "unique to India".
Film historian Feroze Rangoonwala claims that only one out of 25 films produced by Indians before 1920 was not a mythological/devotional. While they continued to be made throughout the 1920s and enjoyed a brief revival with the coming of sound in 1931, they represented a diminishing share of the total output of Indian cinema.
By the 1950s, they had "virtually disappeared" in the Hindi film industry based out of Bombay (Mumbai), writes film scholar Nasreen Munni Kabir in Bollywood: The Indian Cinema Story (2001). Thus, the success of Jai Santoshi Maa took many by surprise.
The surprising box office performance of the film, a somewhat strange affirmation of Cecil B. DeMille's much-quoted remark "God is box office", led to the revival of the mythological genre in Hindi films.
Published in: Business Standard
To read the full article, please click here.