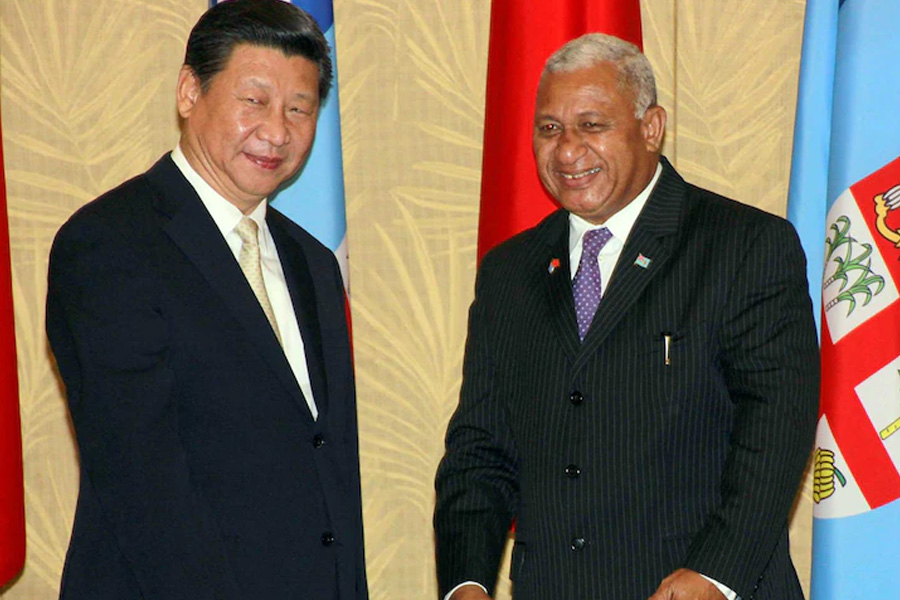 This vagueness and secrecy that is associated with Chinese aid has been a cause for concern, especially among traditional donors.
Author
Saber Salem, Doctoral Research Fellow, Jindal School of International Affairs, O.P. Jindal Global University, Sonipat, Haryana, India.
Summary
China's political, economic and cultural influence is steadily rising in Fiji and the Pacific region as a whole. The Sino–Fiji cooperation deepened at multiple levels after the Fijian military assumed power through a coup d'état and removed the civilian government from power in late 2006.
This 'undemocratic behaviour' infuriated the two regional powers—Australia and New Zealand who then applied sanctions on Fiji, particularly the military brass, and encouraged their counterparts as well as multilateral aid organisations to 'punish' Fiji's military 'regime'.
The military government in order to derail the impact of sanctions from its traditional donors adopted the 'Look North Policy', which was opening cooperation with China and attracting Chinese investment in Fiji. China welcomed the friendship gesture and furnished Fiji with financial assistance. This Chinese friendship was also due to Taiwanese involvement in the region, which was providing aid for diplomatic recognition and support at the UN.
The 'microstates' hold about 7 per cent of UN votes. Both China and Taiwan need their votes at multilateral organisations and given that these microstates are mostly aid-dependent economies, initiated an era of Chequebook diplomacy, which is basically money for diplomatic recognition in the case of Taiwan or acceptance of One China Policy in the case of China.
The microstates have time and again switched between China and Taiwan and played one against the other to get more aid money out of their diplomatic rivalry. The Sino–Taiwan aid competition in the Pacific forced US to make a strong comeback and ensure that China under the pretext of denying Taiwan space in the region actually spies on the US activities in the region.
As a result, the US and its regional allies have significantly increased their foreign aid to the island nations in order to coax them to diminish their level of financial dependence on China. So far, they have not been successful enough and China's aid package has gone far beyond the level US is giving.
Today, China is the second largest donor to the region and largest financier to Fiji. Fiji has become the ace in this game as it is the regional hub of the Pacific Island states. Bearing the current high level of aid competition between traditional and emerging donors in mind, it is too early to judge whether Chinese aid will cause more harm to Fiji than benefit or vice versa. It also entirely depends on the Fijian government as to how much it relies on Chinese aid and how clean Chinese are with their soft loans.
China has been blamed for not being clear and specific about the terms and conditions of its concessional loans. This vagueness and secrecy that is associated with Chinese aid has been a cause for concern, especially among traditional donors.
Published in: China Report
To read the full article, please click here.