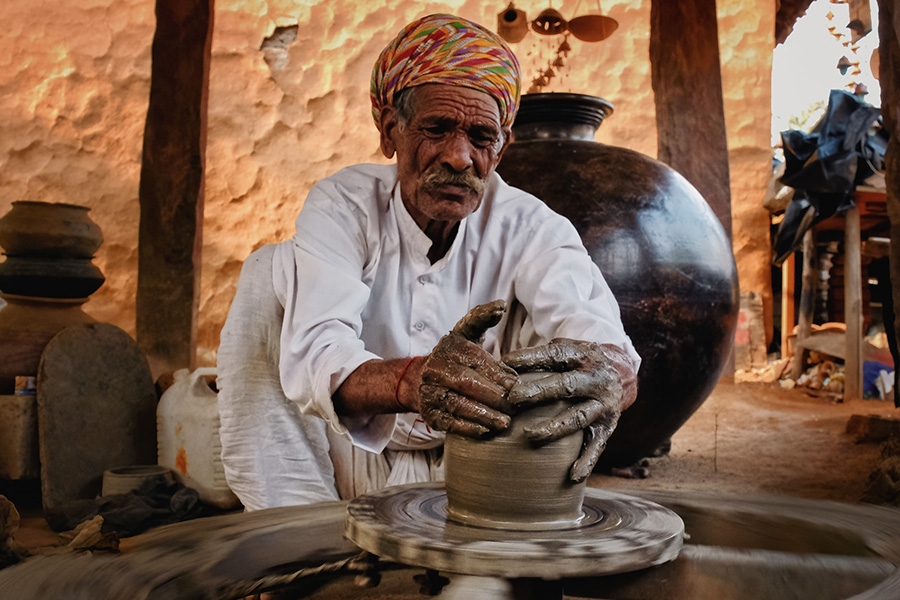 With the cost of production being at an all-time high, the potters earn a profit of no more than Rs 2 per product.
Authors
Deepanshu Mohan, Professor of Economics and Director, Centre for New Economics Studies, O.P. Jindal Global University; Visiting Professor, School of International Development and Global Studies, University of Ottawa, Canada; Honorary Research Fellow, Birkbeck College, University of London.
Tavleen Kaur, Senior Research Assistant and Team Lead of Swabhimaan and Visual Storyboard initiatives with CNES.
Anousha Singh, Research Intern with CNES and a student of Delhi University's Ramanujan College.
Summary
As the sun dips below the cityscape, some stay awake trying to make a living from clay in a world heading toward a concrete jungle. Within the labyrinth of Kumhar Gram (potter's colony) in Delhi's Uttam Nagar, more than 700 families work relentlessly to put forward the finest terracotta products for a public that doesn't realise the genius behind it.
Over the past few months, field researchers, as part of an ethnographic project undertaken by the Centre for New Economics Studies' Visual Storyboard team, tried to interact with the masters, craftsperson, and entrepreneurs of Uttam Nagar's potter colony.
The colony has been home to its potters since the late 1960s when the community migrated from Alwar – known for its traditions and palaces – to the urban enclave of Uttam Nagar. It was the existential need to combat unemployment and poverty that triggered their move to Delhi.
The village, now adorned with statues of revered gods, was merely a piece of land when the potters first arrived. They converted the barren land into a settlement that eventually became a hub for handcrafted earthenware.
Having seen their fathers and grandfathers be involved in the craft, third and fourth-generation potters diligently labour their days away to expand their business further.
Published in: The Wire
To read the full article, please click here.