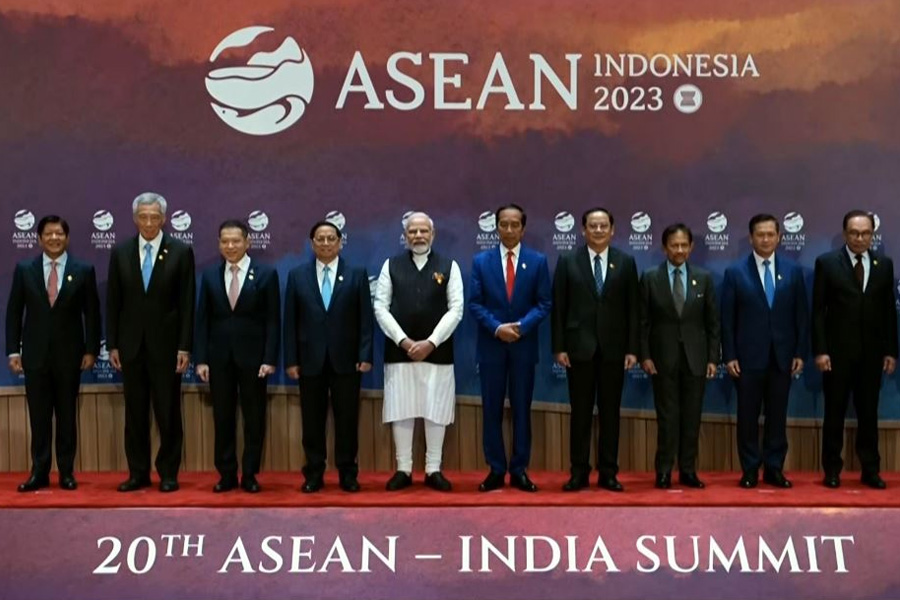 The proposal made by India to create a multimodal connectivity would help create an economic corridor between ASEAN to Europe with India and West Asia in the centre as connecting points.
Author
Gitanjali Sinha Roy, Assistant Professor, Jindal School of International Affairs, O.P. Jindal Global University, Sonipat, Haryana, India.
Summary
On 7th September 2023, Indian Prime Minister Narendra Modi attended the 20th ASEAN-India Summit as well as attended the 18th East Asia Summit in Jakarta, Indonesia. The ASEAN-India Summit held several discussions and they aimed to further strengthen their relationship and work on the ASEAN-India Comprehensive Strategic Partnership and create a future course of action.
It was during this meeting that Indian Prime Minister Narendra Modi reaffirmed India's support for ASEAN's centrality in the Indo-Pacific domain along with highlighting its synergism between India's Indo-Pacific Ocean's Initiative (IPOI) and ASEAN's Outlook on the Indo-Pacific(AOIP).[1]During this meeting, Prime Minister Modi presented a 12 point-proposal for the strengthening of relations between India-ASEAN cooperation, and they are as follows:
1. "Creating a multi-modal connectivity and economic corridor which would help link the Southeast Asia, India, West Asia, and Europe.
2. India offered its services and guidance in the domain of Digital Public Infrastructure for the ASEAN partners.
3. A Digital Future between ASEAN and India was announced, and they aim of this fund is to make sure they collaborate and cooperate with one another in the domain of digital transformation and financial connectivity.
4. India also announced their renewal of support for Economic and Research Institute of ASEAN and East Asia (ERIA) to act as knowledge partner for the improvement and enhancement of their relations.
5. Collectively cooperating in raising issues faced in the Global South era.
6. India extended an invitation to the ASEAN countries to join the Global Centre for Traditional Medicine which has been established by World Health Organisation in India.
7. Aim to work towards Mission LiFE.
8. India offered to share their experience in providing affordable and quality medicines to people through the initiative of Jan-AushadhiKendras.
9. India called in for the collective need to fight against terrorism, terror financing and cyber-disinformation.
10. India aimed for joint coalition for Disaster Resilient Infrastructure and invited ASEAN countries for the same.
11. Cooperating with one another for disaster management and related issues.
12. Enhance cooperation in the domain of maritime safety, security, and domain awareness".
Published in: CeSCube: Centre for Security and Strategy Studies
To read the full article, please click here.