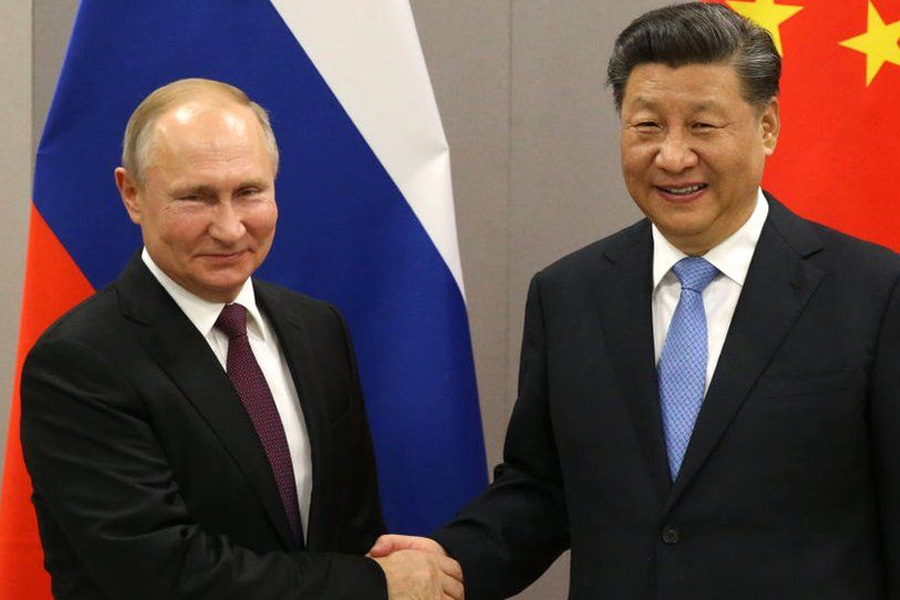 The Sino-Russian partnership has taken the early steps to challenge the US Dollar, which is the root of American hegemony.
Author
Anuradha Chenoy, Adjunct Professor, Jindal School of International Affairs, O.P. Jindal Global University, Sonipat, Haryana, India.
Summary
The great shift in international politics where Russia and China challenge traditional western dominance received a formal stamp from President Xi Jinping and President Putin during the former's recent visit to Moscow. Xi's concluding comment that 'right now there are changes not seen for a hundred years' and that 'we are driving these changes' sums up the directions of Sino-Russian partnership. The symbolism of this meeting is a combined power projection.
The contexts of this Sino-Russian meeting are (i)the proxy war in Ukraine, where Russia has made significant gains over the Russian speaking areas of the Donbas region but remains bogged down; North Atlantic Treaty Organization (NATO) is providing massive arms, monetary, intelligence assistance, so there is no end in sight to this war of attrition. (ii) United States (US) national security strategy marks China as the long-term dangerous threat and is arming Taiwan, encouraging its independence; isolating China economically by putting export controls that curb and target Chinese technologies, industries and manufacturing. (iii) The US has twinned the Sino-Russian threats. NATO strategy is to decimate and weaken Russia irreversibly and simultaneously isolate and contain China. The US is supporting major militarisation of the Indo Pacific in Japan, South Korea and the Philippines and extending military bases in many islands; the Australia, United Kingdom, US (Aukus) Agreement will bring nuclear submarines to isolate China. It is no wonder that China and Russia believe they need security and strategic coordination.
China published a 12 point very general peace plan for Russia-Ukraine that proposes that peace is possible if the 'legitimate security concerns of all' are respected; they have commonalities in framing this war, oppose unliteral sanctions, and reject the 'Cold War mindset'. This plan is rejected by the US that does not want to cede ground to the Russians till Ukraine is victorious on the battlefield. This appears an unlikely scenario.
Published in: Hindustan Times
To read the full article, please click here.