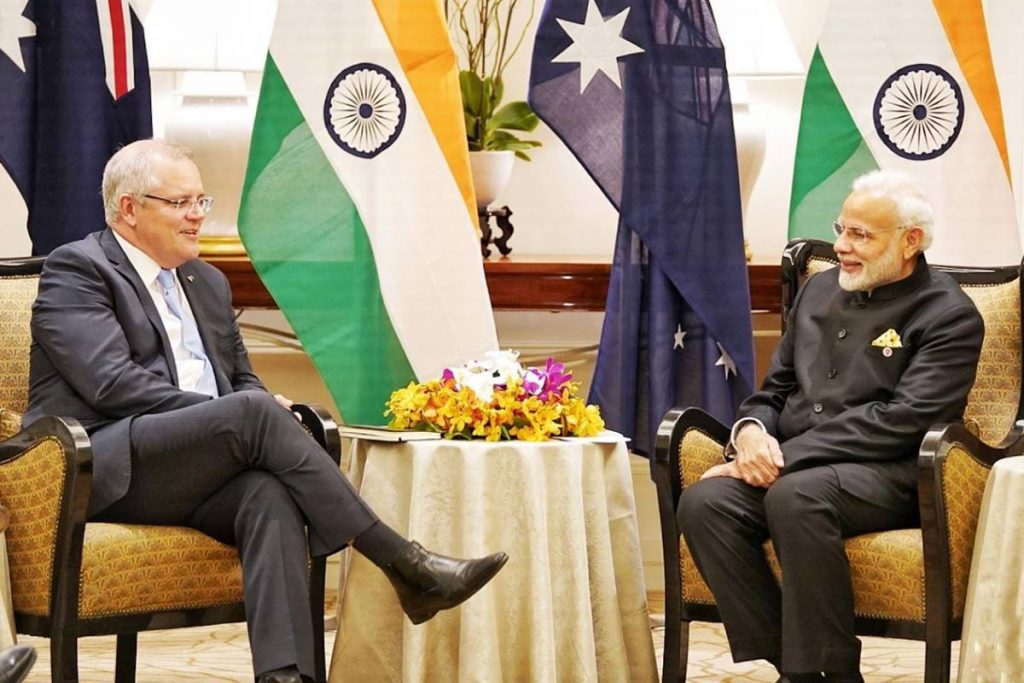 The article outlines reasons for the growing bilateral relationship between India and Australia and the possible future trajectory.
Authors
Pankaj Jha, Professor, Jindal School of International Affairs, O.P. Jindal Global University, Sonipat, Haryana, India.
Shaun Star, Associate Professor & Assistant Dean, and Executive Director, Jindal Global Law School, O.P. Jindal Global University, Sonipat, Haryana, India.
Summary
The landmark virtual summit between Prime Ministers Narendra Modi and Scott Morrison in June 2020 led to ties being upgraded to a Comprehensive Strategic Partnership. Australia's High Commissioner to India alluded to the four D's—Democracy, Defence, Diaspora, Dosti (friendship), with increased focus on Defence.
In the India–Australia partnership, the emphasis is on maritime security cooperation, Quad 2.0, the Malabar exercises as well as cyber security and intelligence cooperation.
The bilateral Mutual Logistics Support Agreement, and growing influence of China in the Indian and Pacific Oceans provide necessary impetus for the relationship to grow. The article outlines reasons for the growing bilateral relationship and the possible future trajectory.
The article concludes that India–Australia ties have reached a phase of maturity and new areas of collaboration and cooperation have been earmarked in the Comprehensive Strategic Partnership (CSP). While progress in defence technology cooperation has been slow from both sides, strategic cooperation has increased in recent years and appears to be the focal point of the bilateral relationship. India and Australia may like to explore joint ventures in defence production, metallurgy (particularly in developing composite materials), nano particles, medicine, climate change mitigation, blue economy modelling, and energy efficiency.
India requires strong support in the areas of education, environmental laws, cold chain management, research in new generic drugs and medicine. On the other hand, Australia might benefit from the Indian experience in counter-terrorism, maritime security efforts in the Indian Ocean Region, anti-piracy missions and detection of hazardous materials onboard ships. In any event, it is clear that closer strategic and economic ties are mutually beneficial.
Culture and education have always been a critical component of developing close bilateral ties and despite the public health challenges faced due to the COVID-19 pandemic, education and people-to-people ties must continue to be promoted. As India–Australia ties continue to grow from strength to strength, both Governments continue to focus on tangible avenues of cooperation which will benefit the relationship from both a strategic and economic perspective.
Published in: Strategic Analysis
To read the full article, please click here