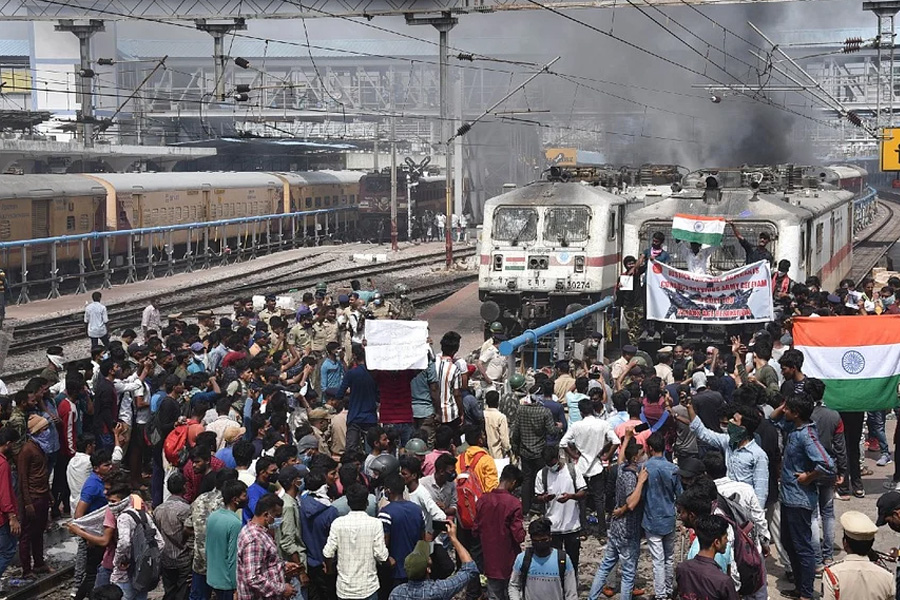 Central and state government vacancies have remained at status quo with little to no hiring in the last few years.
Author
Deepanshu Mohan, Associate Professor of Economics and Director, Centre for New Economics Studies (CNES), Jindal School of Liberal Arts and Humanities, O.P. Jindal Global University, Sonipat, Haryana, India.
Summary
Violent protests erupted across many parts of the country on June 15 after the Centre announced the Agnipath scheme for short-term recruitment into the armed forces. The violence is unfortunate, given how rare it is to see youngsters protest about the lack of good jobs in the country.
In January, there were widespread protests over a change in the terms of employment with the Indian Railways that angered India's youth. Protests like the current one deserve deeper reflection as they reflect India's grave youth unemployment crisis.
India's youth has been patiently suffering for the past few years. The Narendra Modi-led government has not only failed its promise to provide two crore jobs to the youth every year but it has also brought the Indian economy to a point where the processes or outcomes of economic growth – if any – are barely creating good jobs for those seeking them.
The poor performance of organised, job-creating sectors, including the Micro, Small and Medium Enterprises manufacturing segment, has made the situation worse. Here's a look at some data on India's unemployment.
Beyond the concern that good jobs are not being created, the inherent problem of poor work contracts, ad hoc contractualisation and de-unionisation in the workforce has degraded the quality of secure jobs.
This has made more workers wary of finding appropriate jobs in the current labour market, leading to employees either exiting the labour force, being reluctant to seek work, or turning to self employment – leading to more entrepreneurs than salaried workers.
Published in: Scroll.in
To read the full article, please click here.