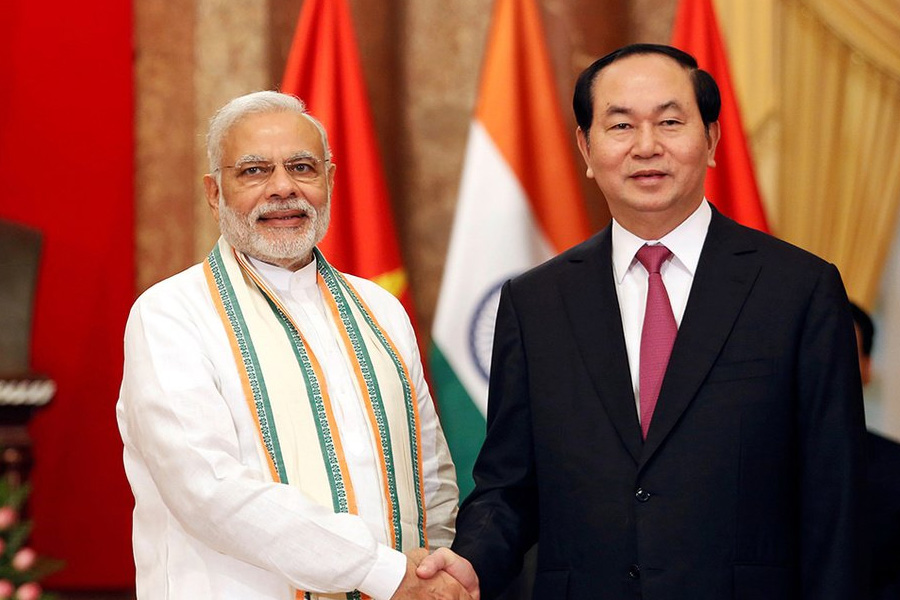 India-Vietnam relationship is a long standing one with deep understanding of each other's needs and a mutual sense of respect, say the authors.
Authors
Harsh Mahaseth, Assistant Professor at Jindal Global Law School, and a Senior Research Analyst at the Nehginpao Kipgen Center for Southeast Asian Studies, Jindal School of International Affairs, O.P. Jindal Global University, Sonipat, Haryana, India.
Archisha Tiwari, Research Assistant at the Nehginpao Kipgen Center for Southeast Asian Studies, and a law student at Jindal Global Law School, O.P. Jindal Global University, Sonipat, Haryana, India.
Summary
The late Prime Minister of Vietnam Pham Van Dong had remarked in 1980 that the relationship between India and Vietnam was "as clear as a cloudless sky", and now that the two countries celebrate 50th anniversary of the establishment of diplomatic ties it can be safely assumed that the statement has stood the test of time. Lok Sabha Speaker Om Birla paid an official visit to Vietnam on the invitation from National Assembly Chairman Vuong Dinh Hu from 19th April to 21st April 2022 following Prime Minister Narendra Modi's phone call with Nguyen Phu Trong, General Secretary of the Communist Party of Vietnam on 15th April 2022. There is a constant reiteration of Vietnam's role in India's Act East Policy and its Indo-Pacific Vision which is cemented by bilateral relations in all fields including but not limited to economy, trade, defence and tourism.
History
From 'Bilateral Relations' to 'Strategic Partnership' to now a 'Comprehensive Strategic Partnership' the two countries have always shared close diplomatic ties which is a result of their shared experience of struggle for liberation from foreign rule and national struggle for independence.
Despite having different political systems, there has been numerous high level diplomatic visits and India has time and again played a key role in Vietnam whether it was supporting its independence from France and its unification or it's commitment to provide assistance in advancing Vietnam's defence in the present decade.
India launched its Act East Policy in the year 2014 where it rightfully recognized the need for economic, strategic and cultural relations with South East Asian countries in the field of connectivity, trade, culture, defence and people-to-people contact.
Vietnam is a very vital and strategic partner for India and as commented by Ambassador Pham Sanh Chu, India has become one of Vietnam's top three partners as a comprehensive strategy partner along with Russia and China, but India and Vietnam's diplomatic relations are stronger.
Published in: Modern Diplomacy
To read the full article, please click here.